Phoebes Art Studio here offer you quality custom oil canvas painting with cheapest price.

5 Things You Can Get From Us

1. FREE Quote For Any Of Your Pictures

2. 100% Handpainted Oil Canvas Paintings

3. Online Proof Available

4. Unlimited Revision

5. Money Back Guarantee

You are welcome to feel free to choose the painting style which you like, whatever realism or impressionism, just send any of your favorite picture for a free quote . Your email will be replied within 48 hours.



----------------------------------------------------------------------

What kind of paintings you can commssion from us?

You are welcome to feel free to send any kind of pictures to do art commission. Any size is also acceptable. Just choose your favorite, whatever landscape, animal, flower, wedding, still life, fruit, kids.... Whatever you do it for your new born, graduation, anniversary, birthday and so on....

Please see the following painting collections, all come from our happy clients. You will find what you like.






----------------------------------------------------------------------

How your oil painting to be painted?






----------------------------------------------------------------------

What people like you say?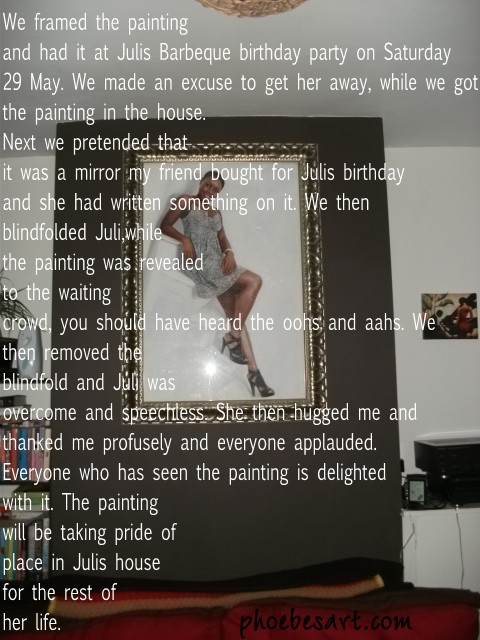 Above painting was ordered by a sweet mom for here beloved daughter. It is a birthday gift. You couldn't imagine how surprise and happy brings to the girl by this unique art gift. Her mom sent us the whole things happened on her birthday party. It is really an amzing present. Surely as the painter, we are honored to have customers like her, we enojy the happy which they bring us.

The following is what Juli's mom sent us:


" We framed the painting and had it at Julis Barbeque birthday party on Saturday 29 May. We made and excuse to get her away, while we got the painting in the house. Next we pretended that it was a mirror my friend bought for Julis birthday and she had written something on it. We then blindfolded Juli, while the painting was revealed to the waiting crowd, you should have heard the oohs and aahs. We then removed the blindfold and Juli was overcome and speechless. She then hugged me and thanked me profusely and everyone applauded. Everyone who has been the painting is delighted with it. The painting will be taking pride of place in Julis house for the rest of her life. "

What a warm and love family! Sincerely invite you to become our happy customer like them.


Send Your Picture Now to enquiry@phoebesart.com

Follow our Instagram @phototopainting & Twitter @phoebe20151 for latest paintings.